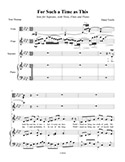 Difficulty Level: Medium
Performed by Kristi Krause
"For Such a Time as This" tells the story of Esther, the queen who courageously risked her life to save her people. Known for her great beauty, she illustrates that each of us are put in the place where we are for a purpose, and given the gifts we need to succeed. Each woman has a mission that only she can accomplish.
Verse 1
Behold the sun has risen,
I feel it warm my face.
Handmaiden bring me cloth of gold,
My finest for today,
To meet what lies before me,
I bring my strengths to bear:
I call upon my beauty,
But I count upon my prayers.
Verse 2
Today I seek unbidden,
A favor of the king;
Hand maiden bring me oil of myrrh
And all my precious things.
I'll do my best to please him,
Yet know without a doubt
He has no power over me,
Except the power God allows
Chorus
I cannot fail
This work is mine to do;
I must not fear
What things I must pass through;
For God will not permit
His work to go amiss.
Has not He given me these gifts
For such a time as this?
Verse 3
I know God is almighty;
His wisdom knows no bounds;
Handmaiden, will you pray with me
That wisdom may be found?
Although my heart is willing
To do what God requests;
No knowing what will happen,
May be for me the hardest test.
Repeat Chorus